A green and fossil-free city
The challenge of climate data distribution
Original challenge:  The challenge of climate data distribution
Challenge from: Hagersten-Alsjvo City District Department
Redefined challenge: How might we make it inclusive for the chefs in achieving the climate goal?
Solution: xClimate!
Concept: A system that helps organizations track progress toward climate goals reducing CO2 emissions and energy consumption. It uses procurement backlog and data visualization to make data-driven decisions and provide visual aids for progress tracking.
Team: xClimate! Amanda Sjöberg, Chloé Lebourg, Davis Frank Kimaro, Tamara Cheruiyot, and Triphose Khonde.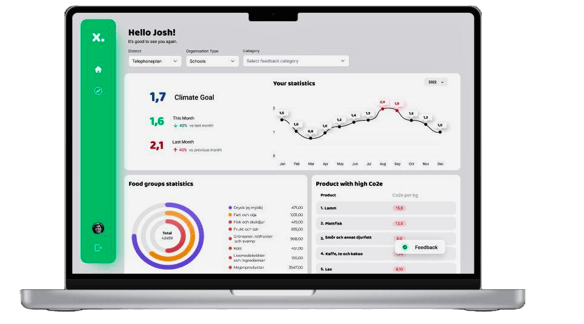 Report abstract
This report describes our work in addressing the challenge assigned to our group by the City of Stockholm in better understanding and increasing citizen participation in city matters. From parks and swimming pools to social housing and pre-schools, the City of Stockholm provides a range of facilities and services to its citizens through the welfare system. During our design thinking process, we deep-dived into ways the City currently collects input from citizens, which allowed us to explore the internal structure of such a massive organisation. We interviewed employees and citizens, brainstormed, developed several concepts, tested prototypes and came up with our final concept-Insiktsrådet. Insiktsrådet is a council, a physical meeting, that gathers useful insights in a standardised and effective way, all the way from the ones in direct contact with the citizens (e.g. service providers) to the ones writing the reports which are the basis for decision-making in the City. ThroughInsiktsrådet, decision-makers but also employees working with service quality get actionable, real-life input and thus are able to improve city services to match the needs of Stockholmers.
Project presentation video
A project by: Amanda Sjöberg, Chloé Lebourg, Davis Frank Kimaro, Tamara Cheruiyot, and Triphose Khonde.