Kista Library – A library's wish to engage with the youth
Original challenge: How to draw youth to the library?
Challenge from: Kista library, Stockholms stad
Redefined challenge: We believe that providing more resources centred around teenagers, could lead to a higher awareness of Kista library's potential for the youth and accommodates their needs for studying, reading and engaging in activities offered by the library.
Solution: Redefine the teenagers' perception of the library with the help of a Youth Coordinator
Concept: The main goal of the Youth Coordinator idea is to have a targeted resource allocated for teenagers with a focus on communication, marketing and user centered understanding. The role can be understood as a bridge between the librarians and the youth to improve the teenagers connection with the library.
Team: Bookworms
Catalina Pizarro,Edvin Frisk, Fanny Melefors, Linus Fhärm, Maha Obid, Pia Eixmann, Rongrong Wu, Sarah Reinhart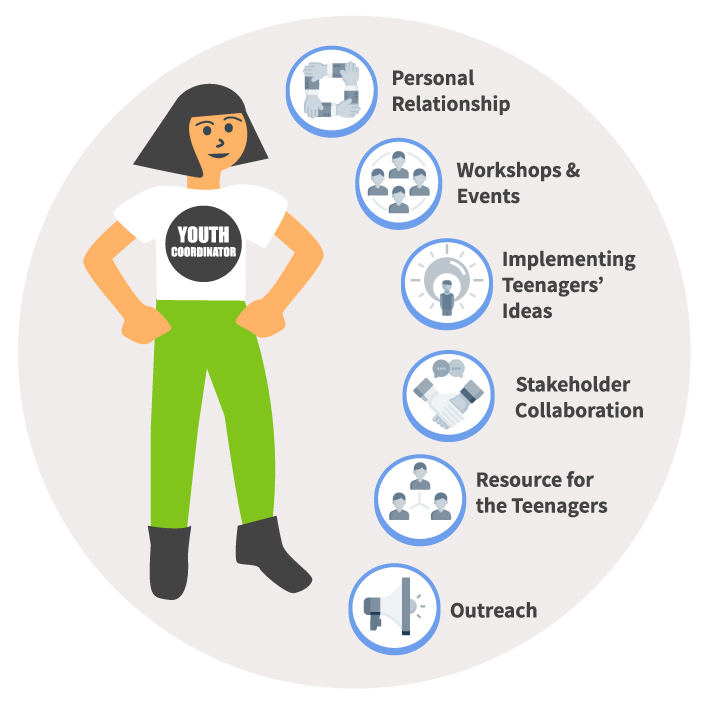 Report abstract
This report addresses the progresses and results from the Master's course Challenges for Emerging Cities, in which we faced the challenge of how to attract more teenagers to Kista library, located in a northern city district of Stockholm. To tackle the core problem of why only few teenagers are currently coming to the library, we used the Design Thinking process, an innovative approach divided into five different stages: empathize, define, ideate, prototype and test.
Many interviews and observations were conducted where we were able to collect a lot of data. As a result, five concept ideas were ultimately developed and turned into prototypes which we then tested with librarians as well as with our target group, the youth. Thereby, we realized that the concept idea of introducing a Youth Coordinator at the library was the most viable solution. It is important to note that the Youth Coordinator is not an additional librarian, but a bridge between the library and the youth. Reaching out to teenagers at places they frequently hang out and promoting the library and its offers are key tasks of the Youth Coordinator. Moreover, by building a personal relationship with them, the Youth Coordinator will get a better understanding of their very needs and interests to tailor the library's offer accordingly.
With the report we hope to provide the library with a suitable solution to tackle the challenge as well as an interesting reading for whomever might be interested in the topic.
Project presentation video
A project by: Catalina Pizarro,Edvin Frisk, Fanny Melefors, Linus Fhärm, Maha Obid, Pia Eixmann, Rongrong Wu, Sarah Reinhart