The Dinner Dome
Challenge: How can we create a meal environment and equal meal experience in nursing homes that improves the general quality of life for elderly people and engages the elderly, relatives and staff in this development.
Challenge Giver: The City of Stockholm, Stureby nursing home, Reality Lab Stureby
Solution: The Dinner Dome
Concept: An immersive scenographic, IMAXinspired, dome for elderly living with dementia, in which they can share mealtimes together.
Challenge Area: Ageing population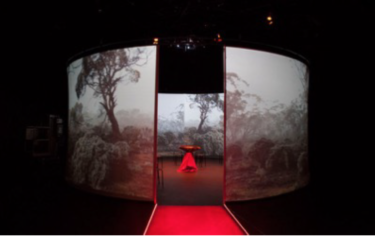 .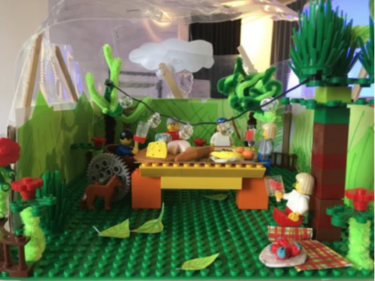 ABSTRACT
The concept of the Dinner Dome is an immersive scenographic, IMAXinspired, dome for elderly living with dementia, in which they can share mealtimes together. Seeing as in 10 to 15 years time, 25% of the population will be over 65 years old, creating a sustainable care for the elderly is a pressing challenge. In the elderly homes of the future, we emphasize an innovative digital solution, as it offers greater flexibility to meet the needs of different types of users, as in our case, users at varying stages of dementia.
The Dinner Dome concept answers to the challenge posed from Stockholm City to "create a meal environment and equal meal experience in nursing homes that improves the general quality of life for elderly people and engages the elderly, relatives and staff in this development." The setting of the Dinner Dome can be decided by the users themselves and should create a relaxing and stimulating atmosphere that engages them, because part of living with dementia is struggling to be present in the moment. The aim of this concept is to construct a new in-house culture based around shared experiences, as well as to improve appetite and general quality of life at the home.
As our challenge givers have once stated, "when users participate in social events, the disease takes a step back and the personality takes a step forward." Seeing as the nursing home may be the users' final home, and they cannot go out into the world, we aim to bring the world to them.
Project presentation video
A project by: Sophia Persdotter Persson, Nikolina Oreskovic, Federico Giacone, Elise Johanson, Kayla Van Cleave, Sherry Sun