Challenges on culture, elderly care and place activation in Openlab's master's course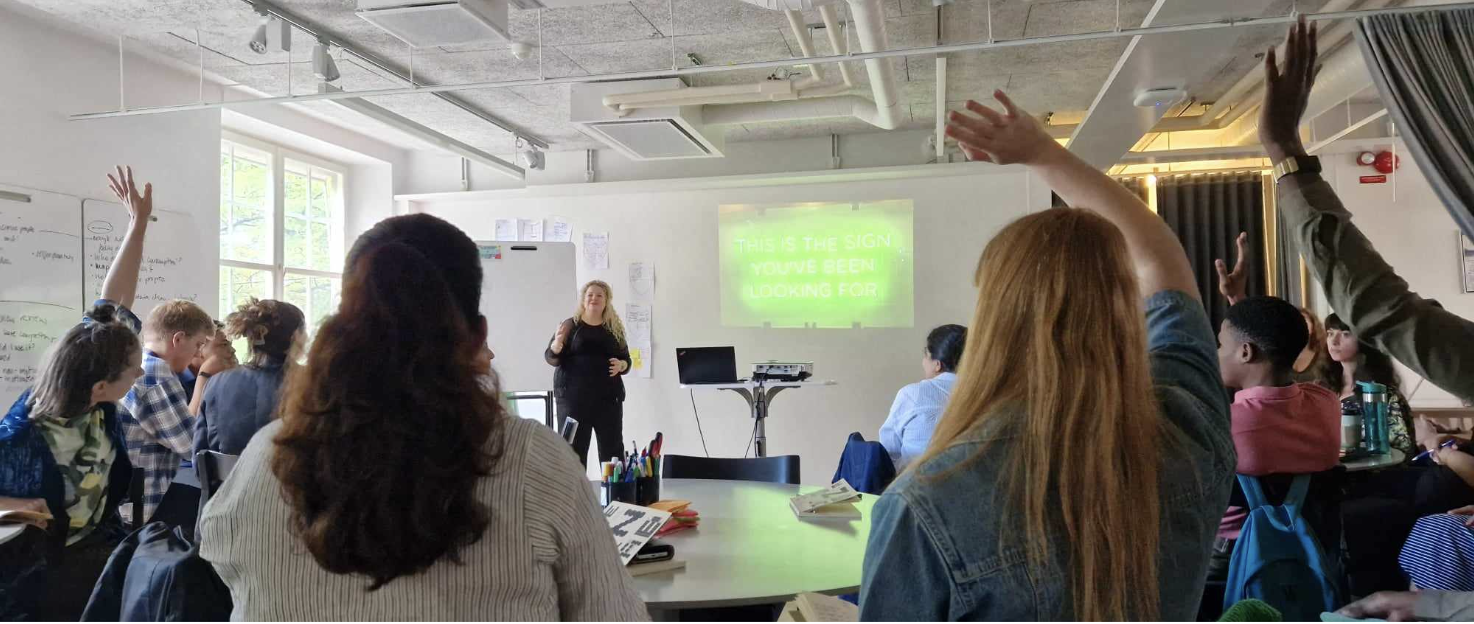 We are now a few weeks into the twentieth semester of Openlab's master's course! If you have followed us for a while you know that it's time for challenge presentations! What that means is that public sector clients introduce complex real-life challenges that the students will create solutions to during the 20 week master's course.
The challenges have been submitted by Openlab's partners from the city and region of Stoockholm and carefully selected to fit the course requirements. This semester's three challenges concern care and services for seniors, signs and information about art and culture and activating a square.
Challenge 1:
elderly care
From Södermalm city district administration, department for elderly care, City of Stockholm
– How might Södermalm city district meet the changing, evolving and increasing need of elderly care, with the participation of seniors?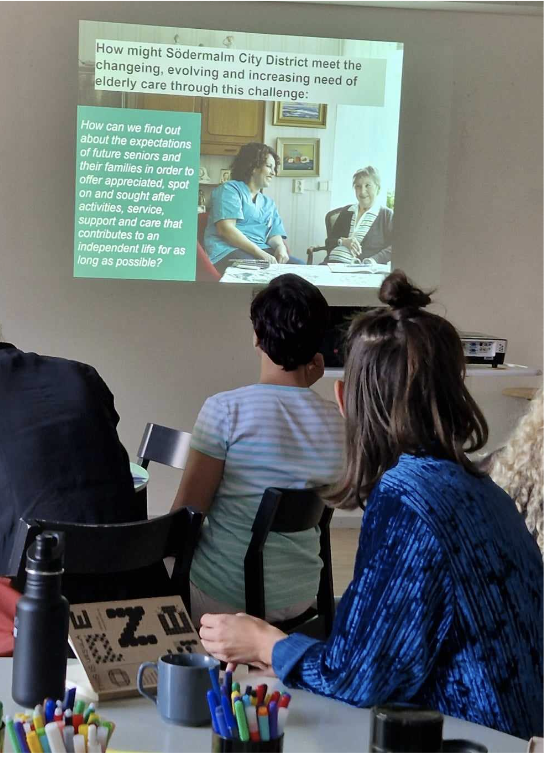 The background of the challenge is that though even though the total population of Södermalm is decreasing, the group of people older that 65 years of age is growing. The age group increasing the most is 80 years and older. The responsibility of the elderly departments of the city district administration is to provide services and care for seniors, i.e. people over 65, a very diverse group both when it comes to health, activity level, wants and needs. The challenge is about finding out the "expectations of future seniors and their families in order to offer appreciated, spot on and sought after activities, services, support and care that contributes to an independent life for as long as possible".
"This not just our challenge, it's a challenge of all of Sweden." says Sara from Södermalm's city district administration in her presentation. "I think this will help us a lot! How can we move from asking the seniors what they want and need, to involving them in creating the new?"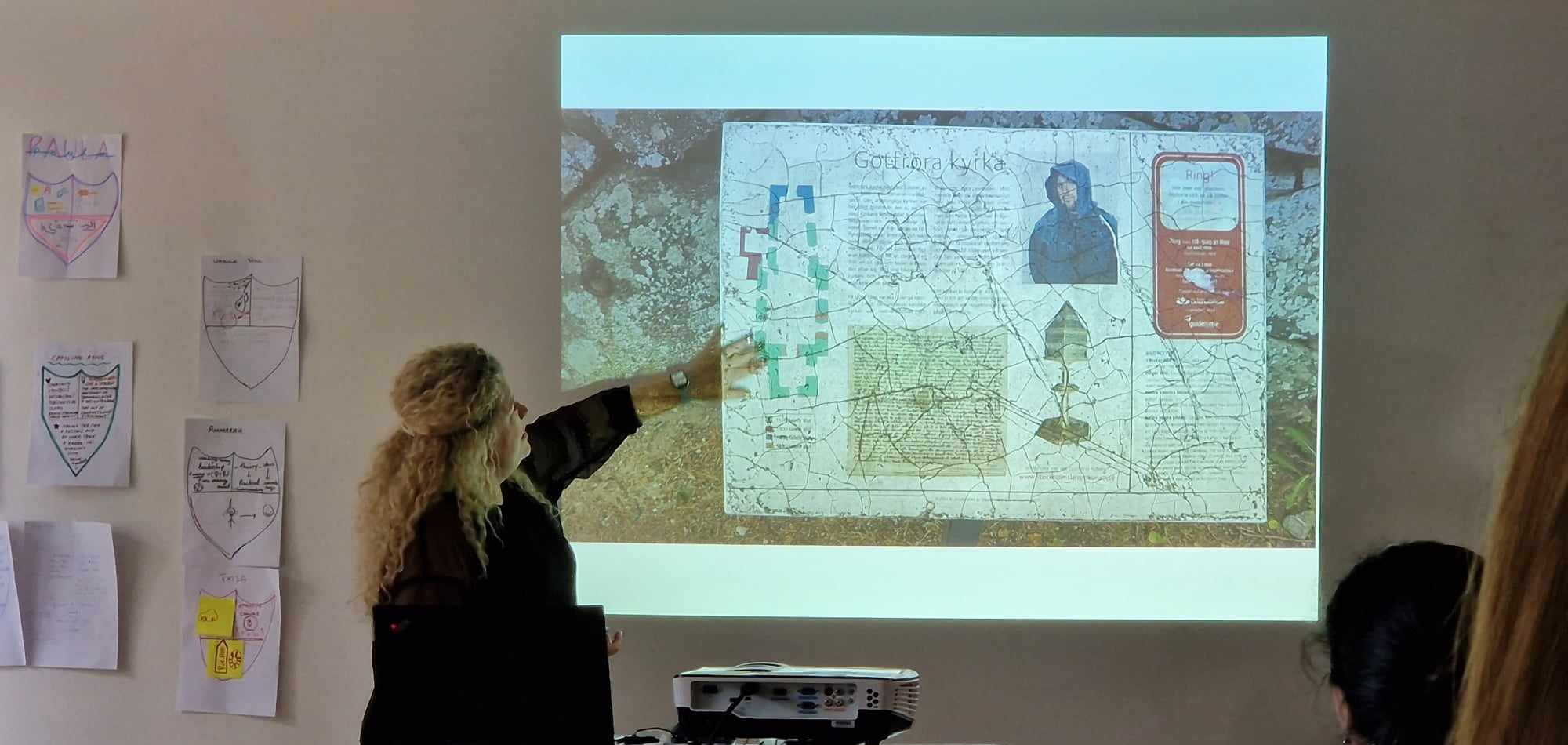 Challenge 2:
signs and culture
From Stockholm County museum, Region Stockholm
– Can we produce a sign that is easy to read, will tell us if it's damaged and is kind to the environment?
Stockholm county museum has the mission of showing art and cultural heritage from all over the region of Stockholm. Since Stockholm city has over 80 museums and exhibition halls the county museum focuses on the rest of the region, a vast area ranging from urban to rural parts. In 2018 they became a digital museum, and they strive to be where people are, for instance on social media, but also using signs at culturally interesting sights. "At least 700 signs have been put up over the course of 40 years." Many of the signs have outdated information, logos and contact information, or have been damaged, but it's hard for the museum to know which ones and where they are located. 
A big question  is: What to do people want when it comes to signs and information on cultural sights? 
Ulrika from Stockholm county museum calls the sign challenge one of the sour-doughs that has been in the back of their mind for quite some time, and with the help from the students they feel ready to fix it! "My hope is that you come up with an interesting solution that we can start with next year."

Challenge 3:
safe and welcoming square
From Skarpnäck city district administration, City of Stockholm
– How can we change Skarpnäck's square (Skarpnäcks torg) into a safe, inviting, accessible and welcoming space?
Skarpnäcks torg is a rather small square in Skarpnäck in the south of Stockholm. Currently the square is mostly used as a passway for commuters on the way to the bus and subway. It's surrounded by buildings and parkings and there is not much greenery. Maria and Henrik from Skarpnäck's city district administration believe it could be more than that. This is why they turned to the creative and innovative Openlab students. Skarpnäcks torg is not a dangerous area they explain, but it's a bit closed off and is identified by local police as a so called "open drug scene", where sale and use of narcotics takes place in public certain hours of the day. They wish to change the square into a safe, inviting accessible and welcoming place. "What opportunities and innovative ways to activate the area would be possible?" they ask.
To find out the answer to what innovative solutions will come out of this process, we suggest you save the dates for the student's presentations in the project. In the halftime concept delivery on October 26th the students present a range of possible ideas. The final project delivery will be on January 11th where one final concept is presented along with user research insights and an overview of the students' design thinking journey.
If you are considering to apply to Openlab's master's course, or to submit a challenge, the public presentations are excellent opportunities to understand what this unique course, deeply anchored in real needs, is all about and how you can benefit!
>> Read more about Openlab's master's course
>> See previous student projects