Celebrate with us – Openlab 10 years!
Openlab celebrates ten years of innovative problem solving and collaboration for a more sustainable Stockholm! We will recognise this cheerful event with a big party in the Stockholm City Hall on November 15th, 2023!

For ten years, Openlab has created opportunities and conditions for innovative thinking and courageous solutions to society's challenges. Over the years, Openlab has engaged and trained public employees, students and teachers, startup companies, civil society and actors in Stockholm's innovation ecosystem – driven and dedicated individuals who, together with us, wanted to design a sustainable, livable and innovative Stockholm.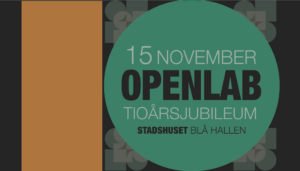 WE INVITE YOU TO OUR TEN YEAR CELEBRATION!
NOVEMBER 15, 2023, STOCKHOLM CITY HALL, BLUE HALL, START 7:00 PM
During the evening, there will be an exhibition of '10 years with Openlab', performances by 'Compagnie Le peuple est joyeux' and nice beats with DJ Enengis. In true 'Openlab spirit' we will try something new – to break a world record in creativity! We'd love to see you there!
How it started – Setting Sail in 2013
Do you remember what you did 10 years ago? For Openlab, 2013 was the year it all began. Contacts were made, hands were shaken and agreements were signed for what would become one of the foremost innovation arenas in the Stockholm region. It was the city of Stockholm, the Stockholm County Council (now Region Stockholm), and the Stockholm County Administrative Board, together with the leading institutions of higher education in the area – Stockholm University, Royal Institute of Technology, Karolinska Institutet and Södertörn University – who joined hands for innovation and social improvement. Soon, our first curious and eager students stepped into Openlab's premises to tackle the very first in a long line of complex societal challenges explored, challenged, reformulated, solved, reassessed, tested and iterated at Openlab.
Leaning forward
In 2023, Openlab has worked for ten years with innovative problem solving and collaboration for a more sustainable Stockholm, and we intend to continue with that! With sharpened expertise and a broadened set of offers, we continue to create conditions for societal innovations, for and with our partners.

We are celebrating our 10th anniversary with a big party in the Stockholm City Hall! We hope to see many familiar faces that Openlab has invited to dance over the years. We are equally looking forward to meeting new friends who want to accompany us on the journey moving forward!
Come and celebrate with us, and others who want to go in the same direction! We believe that we can go further if we go together. "WeQ beats IQ!"
Don't miss the party of the decade! A warm welcome to celebrate Openlab's tenth anniversary with us on November 15!